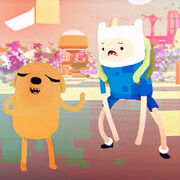 Season 2!!! Where Adventure Time started to get really good. Some of the best episodes were in season 2!
Name of Episode:                  Production Code:         Air Date:     

It Came From the Nightospere             14A                        10/11/10

Finn releases Marceline's estranged father from the Nightosphere, but ends up having to stop him from stealing all the souls in Ooo.

The Eyes                                              14B                         10/18/10

Finn and Jake are kept awake by a horse that does nothing but stare at them with its big eyes.

Loyalty to the King                                 15A                         10/25/10

The Ice King shaves his beard after a princess "breaks up" with him, but when his new look proves to attract other princesses, he capitalizes on the unexpected opportunity.

Blood Under the Skin                              15B                        11/1/10

After receiving a splinter on his finger, Finn seeks the Magical Armor of Zelderon for protection, but cannot take the embarrassment.

Storytelling                                               16A                       11/8/10

While sick and stuck in bed, Jake wants Finn to tell him a story to make him feel better.

Slow Love                                                16B                        11/15/10

Finn and Jake try to woo a group of lady snails in order to save their house from a giant slug named Snorlock, who was using it as a shell.

Power Animal                                           17A                       11/22/10

Jake must stay focused in order to rescue Finn, who has been kidnapped by a gang of evil gnomes bent on turning Ooo literally upside down.

Crystals Have Power                                 17B                     11/29/12

Finn and Jake visit a crystal dimension ruled by Tree Trunks, who turns Finn into a crystal boy. Jake must save Finn from Tree Trunks.

The Other Tarts                                          18A                     1/3/11

Finn and Jake volunteer to help Princess Bubblegum with a dangerous assignment: toting rare and delicious tarts for the Annual Royal Back Rubbing Ceremony.

To Cut a Woman's Hair                             18B                       1/10/11

Finn must get a lock of hair from a princess to save Jake from the balding Tree Witch, but this task proves harder than expected.

The Chamber of Frozen Blades                 19A                       1/17/11

Finn and Jake await for the Ice King and Gunther to return to the kingdom, thinking that he is coming back with a stolen princess, and find the Ice King's secret sanctum.

Her Parents                                                19B                       1/24/11

Jake's relationship with Lady Rainicorn is in danger when he promises to meet with her parents, as both species had a long history of war with each other.

The Pods                                                     20A                       1/31/11

Finn and Jake are assigned to protect three magical beans.

The Silent King                                              20B                         2/7/11

Finn becomes the king of a goblin clan in order to prevent a conflict of violence, but their strange rules prove to be not of his liking.

The Real You                                                   21A                      2/14/11

Finn has to give a speech at Princess Bubblegum's science barbecue and seeks a quick fix to make himself smarter.

Guardians of Sunshine                                      22B                    2/21/11

Finn and Jake get sucked into one of Beemo's games and they have to defeat all three of his bosses.

Death in Bloom                                              23A                        2/28/11

After killing Princess Bubblegum's plant when left to take care of it, Finn and Jake make a trip to the Land of the Dead in order to get its soul back.

Susan Strong                                               23B                           3/7/11

Finn is excited to discover what appears to be a tribe of humans living underground near the Candy Kingdom, but gets more than he expected when he tries to teach one of them about the surface world.

Mystery Train                                              24A                              3/14/12

Wanting to surprise Finn on his 13th birthday, Jake takes Finn on a train, where they get wrapped up in a murder mystery.

Go With Me                                               24B                                3/28/11

Marceline and Jake give Finn advice so he can ask Princess Bubblegum to see a movie with him.

Belly of the Beast                                   25A                             4/4/11

In order to cure the stomach ache of a giant, Finn and Jake must break up a party happening in his belly.

The Limit                                                25B                                4/11/11

Finn and Jake must risk it all to see their dreams come true at the center of a magic wish-granting maze.                                       

Video Makers                                       26A                                 4/18/11

Finn and Jake are on an epic race to make a movie for their "Finn and Jake Movie Club", but end up arguing over the film's plot- whether it should be a romantic com (Jake's idea) or an action/adventure (Finn's idea).

Heat Signature                                  26B                                   5/9/12

Marceline pranks Finn and Jake into thinking that they're vampires, but then her ghost friends start to take things too far and try to kill them.

Mortal Folly (Pt.1)/Mortal Recoil (Pt.2)

Part 1 of a two-part episode. Finn and Jake must go on a quest to find the Lich, while the Ice King pesters them for their blessing to marry Princess Bubblegum.

Part 2 of a two-part episode. Princess Bubblegum is put into the hospital after accidentally being dropped into the Lich's well of power by the Ice King. But when the spirit of The Lich possesses Bubblegum, Finn and Jake team up with the Ice King to stop him.